One of the best ways to make passive income or even a full-time income online is with affiliate marketing.  You don't need to invest thousands of dollars in inventory or warehousing to get started.
You do have to invest in a few things, such as a computer, a blogging training course, web hosting, purchasing a URL and buying business cards.  Many new bloggers want to use Facebook for affiliate marketing, but don't have the money to invest to buy traffic.
While you can invest money in Facebook Ads, you can actually use Facebook to drive traffic to your pages without investing a dime.
In this article you learn the 5 Simple Ways to Use Facebook for Affiliate Marketing, regardless if you are new to affiliate marketing or an experienced online marketer.
What is Affiliate Marketing
Affiliate marketing is a form of performance marketing, in which an affiliate writes content on their blog or website, and places affiliate links in the content.
With this form of online marketing, you are promoting another company's products.  You earn a commission when someone clicks your affiliate link and buys the product.
Affiliate Marketing Promotion Steps:
Write a blog post
Insert affiliate links into your content.
Use  SEO and keyword analysis to get your content to rank highly in the search engine.
When people find your content on the Internet, you want your article to inspire them to click your affiliate link or call to action button.
Why Use Facebook for Affiliate Marketing
Facebook can be a great way to use affiliate marketing to reach millions of people with your content in one place.  You just have to know how to use it correctly.
This is the most powerful social media network. This site does not operate as a search engine, like Google, Bing or Yahoo.  People don't come to Facebook to search for products.  It's a way for people to interact directly with friends, family and their favorite brands.  This is done with posts, comments, likes and shares.   The more likes and shares your content gets, exponentially more people will see it in their family and friend groups.
You need to know the market you want to target, such as interests, age, location, sex, etc.  Based on your target demographic, Facebook pushes your content out to your readers.
Here are the 5 Simple Ways to Use Facebook for Affiliate Marketing
1. Create a Facebook Page
The fist thing you need to do to use Facebook is to create a Facebook page. 
This establishes your presence on the social media network.  Readers will land on your Facebook page when they search for you or click a link.
4 Steps to Create a Facebook Page:
1. Go to facebook.com/pages/create.
2. Click to choose a Page type.
3. Fill out the required information.
4. Click Continue and follow the on-screen instructions.
Source: Facebook
2. Can You Put Affiliate Links on Your Facebook Page
You can place affiliate links on your Facebook page, sort of.  You just have to follow the guidelines.
Facebook doesn't allow you to place affiliate links directly into your Facebook posts.  It is important to follow these tips on how to do it correctly.
This is the golden rule to prevent your links from being rejected or to have your account banned.
Some tips to follow:
Do not paste your affiliate link directly into your page or ad campaign.  This is the best way to fail.  Facebook will either reject your ad or eventually ban your account.
The best method is to promote a blog post with affiliate links to your Facebook page, is to add the URL of your post to your Facebook page.  This is by far the easiest way to use Facebook for affiliate marketing.
It's also 100% free!  Even better, since the affiliate link is in your own content and not on Facebook, you are not violating any terms and conditions, so it won't get rejected or banned.
This is easy to do.  Just paste the URL to your blog post to a new post on your Facebook page.  This will create a clickable link, and will add an image to the post.  If you don't like the image, you can save an image to your hard drive and upload the new image to your post.
3. Why Promote Your Blog Posts on Facebook
With 2 billion active users, this is a great way to promote your blog posts, and even make money.
When you include a blog post with your affiliate links, this is the best way to legally promote affiliate offers on Facebook without the risk of being banned.
You have two legal ways you can can promote your blog posts on Facebook:
Pages (free)
Facebook Ads (paid)
Facebook Ads is the best way to use Pay-Per-Click advertising to promote your offer on Facebook.
Once you set up your Ad campaign, you determine the amount of money you wish to invest in marketing.  Each $dollar amount will give you an estimated reach, or the number of people who will see your ad.  The bigger your investment, the larger the reach of those seeing your ad, which equates to a greater potential to make money online.
Facebook pages is great for free marketing efforts.  You will reach the people who like your page.  This is a cheaper alternative to other pay-per-click (PPC) marketing efforts, such as Google Adsense.
I put a "Like Button" on my blog so readers will click the button and come to my Facebook page and like it.  I am able to reach thousands of readers with each of my posts, and it costs me ZERO dollars.
4. Create a Custom Landing Page
Facebook landing pages are single web pages designed to promote Facebook ads and posts.  They encourage engagement with readers, that ultimately improves conversions and sales.
Landing pages focus on a single message and includes a clear call to action (CTA) message.  Landing pages have proven to be a highly effective Facebook marketing tool.  It can increase readership, engagement and is an effective way to drive more conversions.
Unlike a Facebook page, which is free to promote, using landing pages generally require you to participate in Facebook Ads paid marketing program.  You can select region, demographic, time of day for your campaign will run, and length of time in days you want the campaign to run.
You pay per click from your budget.  Once you have spent the desired amount of money, you are no longer charged and your campaign is removed from Facebook until you initiate a new campaign.
This is a great way to learn about PPC (pay-per-click) marketing without spending more money than you can afford to spend.  You can stop and re-tool your campaign if you are not getting the desired results or you are killing it and need to increase program duration, demographic or budget.
A landing page in Facebook is a great way to do the following:
Collect email addresses
Promote a webinar and get people to sign up
Sell an online course.
Give away or sell an e-book
5. How to Use Facebook Ads for Affiliate Marketing
Facebook Ads are a great way to use Facebook for affiliate marketing with paid ads.  This is the only approved way to promote affiliate offers directly on Facebook.  The ads appear as "Sponsored Ads" on Facebook, since these are paid ads.
You can create a Facebook Ad from scratch, or you can click the "Boost a Facebook Post" button on a post. This turns the post into a Sponsored Ad.
This can increase the reach of your ad to Facebook users.  This is a key method to increase engagement and boost revenue.
What Can Do With Facebook Ads:
Collect email addresses
Promote a webinar and get people to sign up
Sell an online course.
Legally promote affiliate offers on your blog
You put funds into your account, and the ads are shown to readers.  As the ad is clicked, funds are deducted based on the program you select, such as the ad being shown for 5 days, 10 days, 30 days, etc.
How to Boost a Facebook Post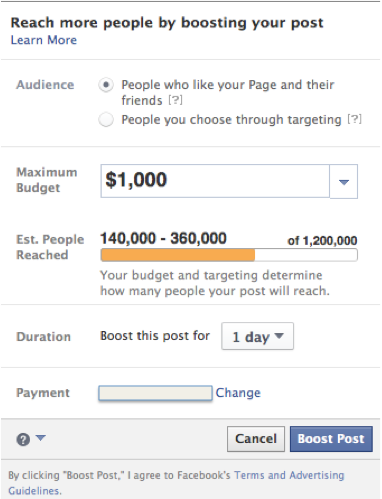 If you don't want to take the time to create a Facebook Ad from scratch, you can simply boost a Facebook post you are promoting for free on your Facebook page.
Why do this?
Simple....expand visibility to the Facebook community.
When you share your blog post on your Facebook page, it is only visible to people who have "liked" your page, and opted in to receive notification when you publish a post on your Facebook page.
When you "Boost Your post, it is converted into a paid Facebook Ad, and is immediately visible to thousands more viewers.
How Does Boosting an Ad work?
Determine Your Monthly Budget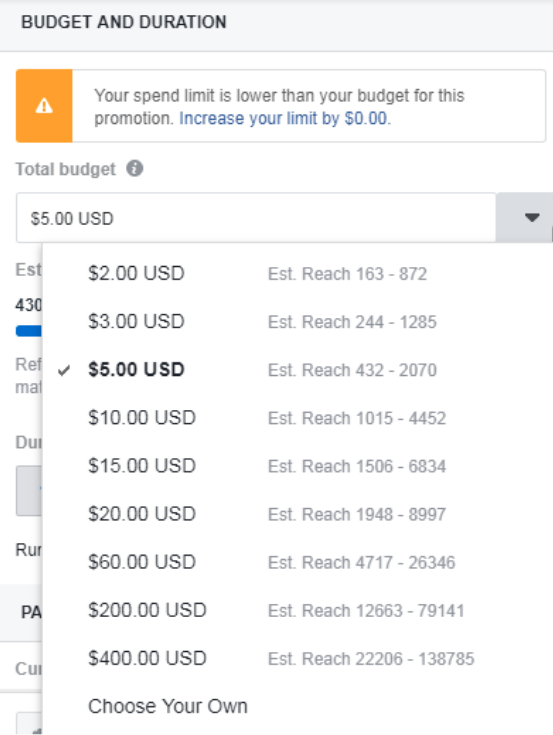 Know Your Audience
Who is your audience?  If you already have a large audience that "likes" your page, you choose "People who like your Page and their friends."
If you don't have a large following or you are starting a page in a new demographic, then you need to choose option 2, "people who choose through targeting."
You can target your audience to receive your Facebook ad by the following criteria:
Age range
Sex (male or female)
Location ( US, Canada, San Francisco, Paris)
Language
Interests (pets, cooking, affiliate marketing, etc)
The last step is providing your credit card for payment.
Once you submit your ad, you will find out within 24-48 hours if your ad is accepted.  Manual reviewers ensure your ad meets the Facebook terms and conditions.