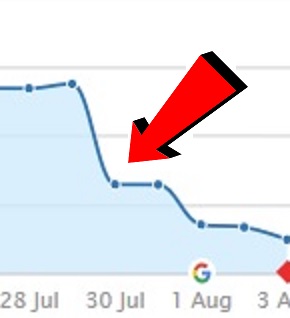 One of the most frustrating things for affiliate marketers to deal with is a Google Algorithm Update.  Every blogger has been affected by one at some point.  You may have been hit by an algorithm update when a keyword you were ranking for on a page or post drops in ranking, traffic slows or clicks and sales stop coming.  You can check for an algorithm update as the culprit, versus a manual penalty or normal fluctuations in traffic patterns.
When I notice a drop in traffic, I go to a few SEO sites, such as SEO Roundtable.  This is a great way to see if there is chatter or even confirmation about an algorithm update.
When you get hit by an algorithm update, your pages can lose ranking.  The good news is, with time or following a prescribed process you can usually recover your lost ranking.
Six Ways to Overcome a Google Algorithm Update.
While Google has been making updates since 2002, the algorithm updates that significantly update search engine traffic started in February 2011 with the Panda Update.  The update aimed to lower the ranking of "low-quality sites" referred to as  "content farms", and return higher-quality sites near the top of the search results.
The Google Panda update is not named for the cute animal, but rather, it was named after Google software engineer Navneet Panda, who created the algorithm to de-rank thin sites and push quality sites to the top of the search results page.

List of Google Algorithm Updates
Google Panda Update (2011)

Google Penguin Update (2012)

Google Hummingbird (2013)

Google Pigeon (2014)

Google Mobilegeddon (2015)

Google RankBrain (2015)

Google Snippet Length Increase (2017)

Google BERT (2019) BERT (Bidirectional Encoder Representations from Transformers), which focuses on natural language.


January 2020 Core Update

May 2020 Core Update
As is the case with any broad core algorithm update, Google states there is nothing specific to fix, because a core update encompasses a broad range of factors.  That doesn't mean there is nothing you can do.  Rather, you have to look at a broad spectrum of activities.
Does Google Target Specific Issues with an Algorithm Update
In some cases, the algorithm update targets a specific issue, such as content farms, health related content, natural language, poor grammar or mobile ranking. . In this case, you need to fix specific issues to overcome a drop in ranking of your pages.  In most cases, the update which has nearly 200 signals, has broad affect.  You can't fix one thing to overcome the algorithm update.
You need to look at your overall site structure, such as:
website structure
content quality and quantity
keywords
site speed
page loading time
linking structure (backlinks and internal links)
social signals
rich snippets
mobile indexing of blog pages
etc.
1. Are you Creating Relevant Content
Google always stresses that you need to continually focus on creating quality content.  If you have thin content on your blog, you need to update the content.  Does your content answer the question you posed in your article title?  Have you searched Quora or other site where people post a question or problems they are trying to solve?  This is a great way to uncover article titles and content suggestions. The more compelling your article titles, Google will give your content a higher relevancy score.
One of the biggest complaints bloggers have after an algorithm update is a keyword they were ranking has dropped, and their content that was on page one of Google is now disappeared into the internet ether.
Periodically, you may need to find more relevant keywords to update the title or title tag for your content that have more monthly clicks. update the title or title tag for your content.   If your target keyword has dropped from thousands of monthly  searches to hundreds of searches, you may need to update your keywords especially if your content has lost ranking.
Is your content compelling that encourages people to share it on social media?  Are people staying on your blog to read your content, or are they clicking away within a few minutes?
2. Remove Thin Content
If you have thin or poorly written content, re-write your content to increase the quality and quantity.  You can also eliminate this thin content from your blog.
If the content is already indexed then your best option is to re-write it.  This will improve your SEO score and help reverse a Google penalty.
3. Update Keywords
You can use a keyword research tool, such as Ubersuggest, SEMRush or Longtail Pro to find high value and low competition keywords.
The days of short 500 word articles are over.  These are considered thin, spammy content now.  If you have thin content on your blog, you'll want to edit your content and add more information.  Google recommends articles should be anywhere from 800 to 2,000 words, to offer your readers compelling content on most subjects.
Sometimes a keyword is difficult to rank for, but it is easier to rank for a long tail keyword phrase.  This is a three or 4 word phrase that includes the direct match keyword, and is easier to rank for.
4. Check Google Search Console reports
Here are some reports to check that can affect recovery time from an algorithm update :
Mobile usability:You will uncover if there are mobile issues with your site. These are crucial.
Structured data: This is a key signal.  Check your structured data report for items that can be fixed.
Security and manual actions: If your site has been hacked or if it has a manual penalty, then you will find out here.
Sitemaps: Make sure your sitemaps are current.
Indexing and crawling errors: Here you can see the pages Google has indexed and whether there were problems when crawling your site.
5. Mobile Friendly Pages
Check your blog theme to make sure it creates a mobile friendly version when you open it on your smartphone.
If not, you can add a mobile friendly plugin to WordPress that will create a mobile friendly version of your blog.
6. How Long Until My Site Recovers
It is hard to say how long it will take your site to recover from an algorithm update.  SEO Roundtable offers suggestions after an algorithm update what you need to do, if anything, to recover.