You may be wondering how to blog during the coronavirus (Covid-19) pandemic, or is it worth starting a blog ?
The answer is yes, but you should avoid starting a blog in niches that are suffering at this moment.
With travel and retail sites are grinding to a halt, travel blogs are taking a big hit at the moment.  Eventually travel related blogs will bounce back as people are able to leave their homes.  This is particular as airlines, cruise lines and other travel-related businesses resume regular business.
If you blog in a niche that has been affected by the Coronavirus (Covid-19), there are several tasks you can do if you are not able to blog.  This is particularly the case for travel bloggers.
Tasks you can focus on include:
updating posts.
finding more relevant keywords.
what to do if you're trapped in another country and you can't home.
Hot Blogging Topics During Covid-19

As you can imagine, blog posts related to Coronavirus (Covid-19) are hot topics at the moment.
Writing on these topics can drive tons of free traffic and clicks to your pages.  Your content should be unique and relevant, in order to be engaging.  This will naturally encourage people to read and share your content via social media.
Several affiliate networks have Covid-19 related products and services, which can help drive traffic and sales to your pages, and you can make money as well.
Other topics that are generating quite a bit of traffic during these unprecedented times include:
Lockdown rules.  What are the rules when people can leave their homes and move around unfettered.  Searches for content related to this topic are up a staggering 4,600%  How do these rules apply for people commuting to work.  When can people be outside to go shopping or enjoying outdoor activities to get exercise.  There is quite a bit of confusion in these areas, and can offer some good opportunities to write blog posts that clear up the confusion.
Social distancing.  What is social distancing and how do you do it safely.  Topics related to living your life while practicing social distancing is up over 3,000%.
Personal Finance.   This content should  be related to topics on subjects including paying federal and state taxes, unemployment insurance for those who have been laid off, or how to get government assistance and other related topics have skyrocketed over 2000%.
The retail industry has taken a huge beating as malls and retail stores close for being considered non-essential, as a way to protect society against the spread of Coronavirus.  Online sales of clothing is down as well, as people cut back on shopping if they fear their jobs are in jeopardy.
If you're a blogger in the retail or fashion niche, this is a good time to focus on creating content on future fashion trends.  The pandemic will eventually end.  The pent up demand will get shoppers back into the stores and online for goods and services.
You will soon begin to see market research firms and e-commerce analytics companies publishing data trends.  This will particularly be on Covid-19.  Such as, how this disease can impact people in various age groups, geographies and income levels.
You can certainly create content on this topic.   Other popular topics are how retail market and online shopping landscape may look 6 months and 12 months from now.  People are looking for information to be positive about, amid all the negative news.
Popular Niches to Focus on or Avoid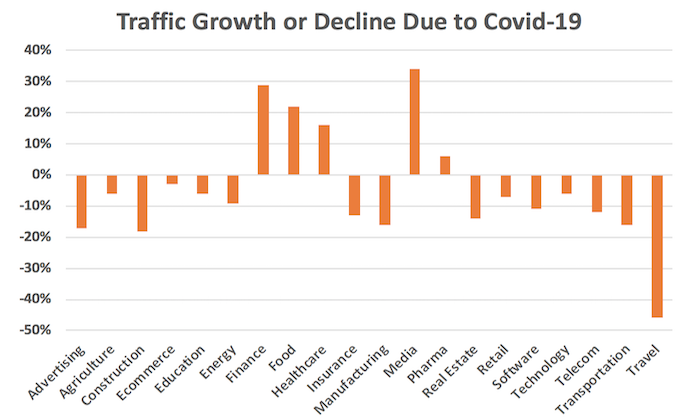 Neil Patel, SEO Guru and creator of Ubersuggest keyword Tool, has created an amazing graph.  He pulled data from Google search, Bing, Yahoo and other data tracking sources. He drilled down into how various market segments have benefited or suffered since the onset of the Coronavirus pandemic.
As you can see, Covid-19 has lead to a drop in traffic anywhere from 5 to nearly 50% in several key market segments.  Subsequently, the Corona virus pandemic has lead to a significant increase in traffic.   You can see increases from 15% to over 30% in a few key market segments.
Finance
With millions of people now out of work or struggling financially, they may be looking for articles critical information.  This may be on important topics such as,  on how to save money, how to reduce bills, how to make money quickly, etc.  If you have experience in this area, this may be a great time to start a finance blog, especially if you can give practical advice.
Food
With so many people panic buying and hoarding key food items and necessities, people are searching online for these items.
With stay at home orders from the government, you can provide tips on where people can  find food items online.
Healthcare
In the healthcare niche, people may be looking for information and advice on how to prevent the Coronavirus (covid-19), and protect themselves and their family from the pandemic.  They may be looking for ways to determine if you have been infected. This would be critical if you know or live with someone in a high risk category. This can include for places to buy face masks or surgical gloves.
People might be looking for data and trends on infection rates, and you can provide this information in a concise fashion.
This niche can be a bit more difficult to rank your content, due to the Google Medic Update.  Google wants healthcare bloggers to be an authority in this niche.  There are several articles on what Google defines as an authority in the healthcare niche.
Media
With so much biased media that is focusing on infection rates and the growing death count locally and around the world, people are searching for real data from the experts on infection rates.
Political pundits on both sides of the aisle are reporting data that reflects the politics of their party affiliation.
People who agree with one party or the other may seek out related content.
If you like politics, this is a good opportunity to start a political blog, especially since the presidential election is less than a year away to November 2020.
Final Thoughts
You may be thinking with people being asked to stay in their homes, businesses closed, and millions of layoffs this is the worst time to start a blog, or just stop blogging altogether if you are in a niche that has been hit hard, such as travel or retail.
This Coronavirus (Covid-19) pandemic is a short lived issue, that will last several months. For bloggers, traffic and sales will return in timr.
As scary and frightening as this pandemic is, people have short-term memories.  In 6 months to 12 months from now, people will act like nothing ever happened. 9/11 was a tragic event that killed over 3,000 people in a matter of minutes.  Except for some airline travel restrictions, people act like nothing happened. People want to get back to their lives before Coronavirus.  They want to go back to work, kids returning to school, shopping in malls, buying online, eating out in their favorite restaurants, seeing friends, 10-day European vacations, 7 day cruises and more.
You can blog about how to survive the Coronavirus, and summer or next fall fashion trends.  The government expects the economy to bounce back in a big way.  This will be an exciting time for bloggers and online marketers.