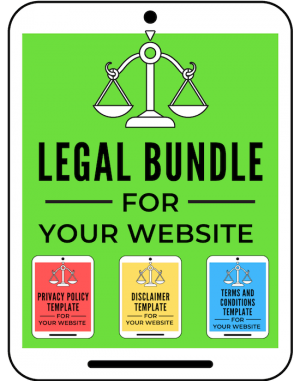 You need to have legal documents for your website to protect you and your online business from any potential legal action. The Legal Bundle for Websites contains the three most important legal documents for any online business owner.
Whether your website is for a business, you're an affiliate marketer, or even if your blog is for a hobby, you need to be protected legally.
At some point many blog owners may face a legal action from another party.
You may need to take legal action or protect yourself against another party if they steal your content, or violate your terms and condition.  Having clearly stated legal documents on your blog, such as disclaimer, privacy policy or terms and conditions,  can help protect you from a legal action.
The most common legal documents needed for website owners
Too often, internet marketers search for free legal documents online to use for their website.  The problem with this is, you don't know who created these free legal document templates.  That's why you need these customizable lawyer created legal documents.
That means the free legal documents you are using may not be legal at all, thus you are potentially leaving yourself and your business vulnerable to legal action.
Free legal documents often only allow you to add limited information for your business needs, and offer no customization.
For the most flexibility, use this legal bundle for websites, which meet your specific business needs for the best legal protection.
Best Legal Bundle For Your Website.
Amira Irfan from A Self Guru is a business lawyer, blogger and business coach based in Florida, with over 8 years of experience.
She understands that bloggers and internet marketers have unique business needs.  She created the affordable Legal Bundle for Your Website just for this reason.  These legal documents are fully legal in all 50 states.  These legal documents are 100% customizable, and ideal to protect the legal needs of internet marketers and website owners.
These documents are GDPR compliant.
"I often read of bloggers finding their own content or images used illegally on other websites.  They have no idea how to address the issue.  Having legal documents protect you in such cases."
A Must Have for Affiliate Marketers
If you're an affiliate marketer or you want to make money with a blog, you must at minimum have a documented Privacy Policy and Disclaimer Policy on your blog.
These legal documents provide important protections for you and your clients.  Here's what you need to know about FTC Disclosures.
The Privacy Policy let's your readers know how you will protect their personal and financial information.
The Disclaimer Document let's your readers know you are an affiliate marketer.  The document states how you may receive a commission from the seller if they purchase a product from a link on your website.
The FTC wants affiliates to disclose their relationship with the seller, and if you are being paid to promote the product.
If you are being paid to write a sponsored post, this needs to be disclosed to the reader.
These documents are a great way to protect your business, and allow you to thrive as an affiliate marketer.
Let's Take a Closer Look at Each of the Legal Documents
Privacy Policy for Website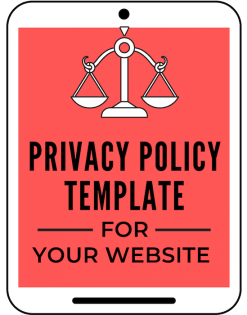 A privacy policy for website is an important legal document for website owners.  This document is required by law.  You use this privacy policy for website to disclose what personal data you collect from your website's visitors.  You must also demonstrate how you will collect this data, what you will do with the information and how you will keep your user's information secure.
This Privacy Policy Template is Lawyer created and approved, so you know you're fully protected, and GDPR compliant..
This legal template is fully customizable for your needs and come with instructions.  When you purchase the legal bundle here, you get three exciting bonuses.
Amira from A Self Guru is available to answer your questions, to help you set up your Privacy Policy.
Amira has stated - 
Disclaimer Policy for Website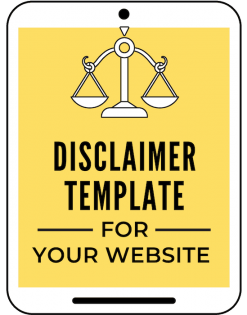 Starting a website, a blog or an online business has never been easier than it is today.  If you plan to create and publish content on your blog or website, you need to have a clear a visible Disclaimer Policy. 
A disclaimer policy discloses who creates the content on your website.  A disclaimer is critical if you make money with your website or blog.
An affiliate marketer makes money with their blog or website. the Federal Trade Commission states that affiliates must disclose that they can receive financial benefit if you click a link and purchase a product.
In Amira's Words -
Since Amira from A Self Guru is a blogger and lawyer, she understands what must be on a disclaimer statement.  She provides a disclaimer template in the Legal Bundle for Websites, so you can create a disclosure policy in compliance with the law, and will protect you and your business.  While a disclaimer won't completely rule out the possibility of legal action at some point in the future, it will go a long way toward protecting you legally.
This Disclosure Policy Template is created by a lawyer for your satisfaction and protection.  When you buy the Legal Bundle Here, you get three free bonuses.
Terms and Conditions Template for Website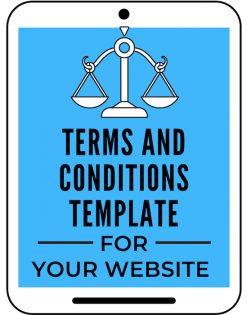 Terms and Conditions, also known as Terms of Service  (TOS) or Terms of Use, act as a legal contract between you and the users who come to your site.
In your Terms and Conditions template, you can include the rules, guidelines and behavior the company or website owner sets on how users can access and use your website and the information in the website.
Depending on the type of information users will access on your site,  you can decide if users need to agree to Terms of Conditions before accessing information on the site.
What happens if a user violates your terms and conditions?  Will they receive a warning, or will their access to your site be terminated?  You, as the website owner, determine this.
Amira stated -
Testimonials
You can read testimonials here from from real users of the Legal Bundle for Your Website.
How to Get the Legal Bundle for Your Website