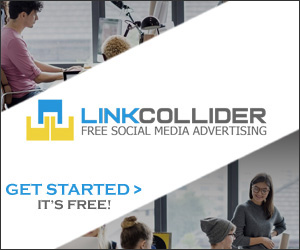 LinkCollider is a free website ranking tool that uses social media sites  like Facebook and Instagram, to improve Search Engine Optimization (SEO).
This tool helps you get hundreds to visitors to your blog on a daily basis.  Visitors leave comments, shares, tweets, Instagram likes and Pinterest pins. Search engines see this engagement as a positive vote for your blog, and helps get your blog found on the internet.
This is an easy way to drive free traffic to your blog, as well as, to boost your primary source of likes, shares, tweets, subscribers, followers & blog posts.
With more than 350,000 users, you can quickly grow your likes and shares across the Internet to grow your traffic and sales.
With this website SEO tool, as you visit member sites, like and share their content, you gain tokens.  These likes and shares translate into a growing list of back links. . The search engines, like Google, see the growing number of likes, shares and back links as a nod of credibility, and raises your profile, and  and content in the search engines.
Users searching for content will more easily find your content, which can lead to more visibility, more traffic and ultimately more sales.
Importance of Social Media to Drive Traffic
We all know getting your content found on the search engines is the most important to job to gain followers and readers.
With SEO this process takes time, and since without people coming to your site you can't gain a following hungry for your content, and won't make money online as people won't be able to find your product reviews and articles.
With Linkcollider, Social media shares ramps up this process by bypassing the time it takes for Googlebots to find, index and rank your content.
Great For New Bloggers
One of the most frequently asked questions of new bloggers is how to increase blog traffic.  As you know it can take several months to get your blog noticed.  Writing blog posts on a daily basis, not not seeing any traffic to you your blog can be discouraging.
LinCollider is a great way for new bloggers to get other bloggers to your site.  This a good way for new bloggers to increase visitors, tweets and Instagram engagement that will help increase your site profile on the internet.
LinkCollider helps your site grow by pairing you with other site owners who want to increase website traffic, improve search engine rankings, and get free Facebook likes & shares.
Social media shares gets your content in front of your readers exponentially faster.  This is due to hundreds people are sharing your content with their friends and readers on a daily basis.
Get Facebook Likes & Shares
Increase Pinterest Pins & Followers
Help your Tumblr content get seen and shared.
Get Stumbleupon Likes
Use our SEO and social media tools to increase website traffic and get your website found in the search engines.
Grow your YouTube subscribers
You decide and set in your profile what you want to improve, such as: blog traffic, tweets, likes, shares, or Pinterest pins for example.
Perfect for New Bloggers
One of the biggest challenges for new bloggers who don't yet have "street cred," is to drive traffic to your blog.
Not having authority makes it more difficult to get your content found, ranked and shared on social media sites.
By using social shares, even new bloggers can get their content in front hundreds or thousands of eyes that might otherwise take you years to build.
Using LinkCollider website SEO tool can achieve in days, weeks or months, what could normally take years.
LinkCollider delivers hundreds of likes, shares, tweets, Pinterest pins and Instagram engagement from real visitors to your blog on a daily basis.
Benefits of LinkCollider Website Ranking Tool
Collect Tokens
On LinkCollider, token serves as your money. You will "pay tokens" to the other users of LinkCollider.  This will help you grow your blog tweets, likes, shares, blog posts, followers, web traffic, and subscribers.
As you give other users tweets, shares and likes, they pay you tokens.  You can then use these tokens as currency to grow your site visibility.
How to Collect Tokens
With this website ranking tool, you can use any of these popular social media sites to put your content on, and get collect tokens by liking other members posts and pics.
These tokens will help you get your content shared faster by having other members share your content.
How to Post Your Content Faster to Social Media Sites
This is the website SEO tool to get your content onto  the social media sites as soon as you publish it to your blog.
No more need to write a blog post, then copy and paste URLs to Facebook, Twitter, Pinterest or Instagram.
Testimonials
How to Get Started with LinkCollider Website Ranking Tool
Just click the link below to register your free account.