SEMRush is a complete digital marketing research platform that offers SEO Tools for bloggers, which helps you drive more traffic and sales to your campaigns by helping marketers.
If you're an online marketer, then you know how critical search engine optimization (SEO) is to your business.  You need to know how to do keyword research.
Search engine optimization (SEO) is the process of improving the quality and quantity of your website traffic by increasing the visibility of your web pages in the Search Engine Results Pages(SERPS).
SEMRush improves your SEO and SEM by helping you:
Find the right keywords
Create compelling content
Compare domains with key visibility indicators
Conduct competitive analysis
Understand where you site ranks with the competition
In today's marketing environment with millions of blogs vying for your eyes and dollars, frequent Google algorithm updates, keyword rankings changing by the day,  Search Engine Optimization is harder than it used to be.  SEMRush gives you the SEO tools to make it easier.  As an online marketer or blogger, you create content to promote products and services, and to resolve the problems of your readers.  SEMRush gives you the SEM and SEO tools to analyze and understand precisely how and where your competitors have found success.  The keyword research tool allows you to replicate it for your business as well.
What is SEMRush
SEMrush is an online content marketing SaaS platform, that enables online marketers to optimize their online content marketing presence across all key channels.
SEMRush offers a suite of SEM and SEO tools to perform website analytics help bloggers and online marketers master Search Engine Optimization (SEO).  This is the best way to help you drive more traffic and improve sales for your marketing campaigns.
Curious Where You Rank in Google? Find Out Here!
SEMRush SEO Tools include:
Domain Analytics - Uncover key indicators about your competitors.  This will help you determine which competitors are in a stronger and weaker marketing position to your website or company.
Keyword Analytics.  You can identity the keywords your competitors are ranking for.  This keyword analysis tool will help you develop a strategy to target your competitors keywords.  With the Keyword Magic Tool, this easy-to-use keyword research tool identifies the keywords and keyword phrases you need to build profitable SEO or PPC campaign.
SEO Writing Assistant.  It's one thing to write good content, but it's another thing to write SEO friendly content that drives traffic and sales.  These are two different skill sets.  Are you using the best keywords?  Does it have the right keyword density, tone and voice to convert readers to buyers?
The SEMRush keyword analysis tool is effective for both organic keyword research and PPC (Pay Per Click) campaigns to drive traffic based on the keywords you are targeting.
Keyword Magic Tool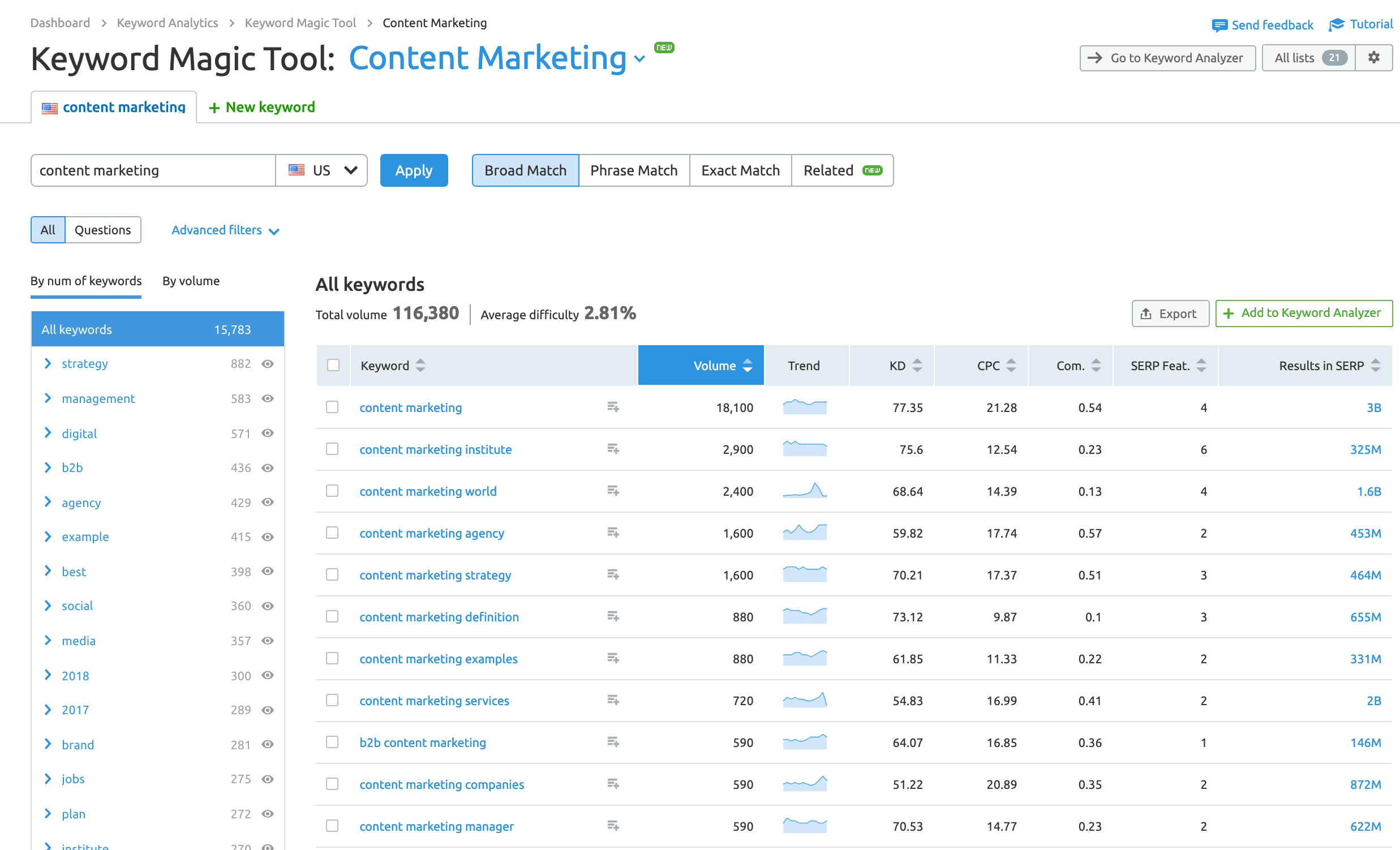 Whether you're running organic traffic or PPC campaigns, knowing the right buyer keywords that people are searching for is critical to the success of your campaigns.
Are you taking people through a sales funnel, where keywords may start as general search terms, and change to specific long tail keywords as you move the buyer through the sales funnel?  If you're a blogger or affiliate marketer creating articles or product reviews, you may need to sprinkle a variety of keyword search terms and long tail keywords in your content.
Discover Your Competitor's SEO and SEM Secrets Here 
SEMRush SEO Writing Assistant
We always here content in king, but not all content is created equally.  The SEO Writing Assistant tool from SEMRush will help optimize these components of your article to improve your overall SEO score.  Poorly written, grammatically incorrect and spammy content, will not generate backlinks and sales.  You more likely to get a Google penalty or worse, get your content devalued.
Good content is compelling.  It answers your readers questions or solves their problems.  You have the right keywords sprinkled throughout your article.  You've ensured the right keyword density and word count for the search engines to rank your content.
Have you optimized your title tag and image alt tags?  You will learn how to optimize your content for SEO.
Benefits of SEMRush
With SEMrush, you can quickly find high value low competition keywords to use in your articles and campaigns.  They scour all the search engines for the keywords people are searching  for in real time, including monthly searches and PPC bid amount.  Even if you don't run PPC campaigns, keywords with high bid amounts indicates popularity.
You can identify trends or shifts that occur within your industry or niche, and make changes accordingly.
The SEmRush audit tool audits your on-page SEO, finds areas needing improvement and helps you improve your pages performance. When you understand your page performance, you are able to understand how to optimize your pages for SEO and improve user engagement and ultimately improve your sales.
Discover Your Competitor's SEO
To effectively compete against your competitors you have to know what they are doing well, and where their weaknesses are.  You need an effective keyword analysis tool to do that.  With SEMRush you can quickly analyze and discover your competitor's SEO.
You can look at what the top competitors in your niche are doing.  You can see how many backlinks they have and the keywords they are ranking for.  This can help you mimic what they are doing, and improve your overall SEO performance.