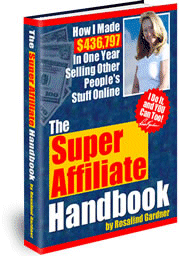 Super Affiliate Handbook, from Super Affiliate Rosalind Gardner, is a complete and comprehensive book on affiliate marketing for beginners.  In this book Rosalind will teach you everything you need to know to make money online with affiliate marketing.
Originally written in 2005, this book quickly became known as the  'bible of affiliate marketing.'
Many 'gurus' claim to be experts in affiliate marketing.  They sell software that promise to help you can make thousands of dollars almost overnight, without a blog, zero content and no  traffic.  This is the definition of snake oil.
She created the Super Affiliate Handbook to teach people the techniques every affiliate needs to make money online with a blog.
Download it here now.
What is the Super Affiliate Handbook
It is the FIRST comprehensive guide ever published for new affiliate marketers to learn how to make money online.  New and experienced affiliate marketers have found the Super Affiliate Handbook to be an invaluable companion.
It is created for someone who knows nothing about affiliate marketing.  She literally takes your hand and walks you through the entire process.
You will learn the following vital skills:
What is affiliate marketing
Find Web Hosting plans for affiliate marketing
How to set up a blog
Important plugins you will need
Choosing a niche for your blog
How to write a product review
Best ways to do keyword research
The book has been updated several times to include the latest affiliate marketing money-making techniques
When you use a comprehensive training guide, affiliate marketing can be a rewarding career choice. With skill and time, you may eventually be able to replace your full-time salary with passive affiliate marketing commissions. Rosalind Gardner uses her 20 years of experience in affiliate marketing to teach you how to do it as well.  Get started now.
Who is Rosalind Gardner?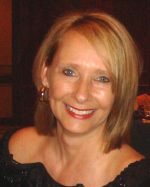 She is a former air traffic controller from Canada who was looking for a new career.  She discovered performance marketing, and eventually made enough money to quit her day job.
Rosalind Gardner is one of the original affiliate marketers to join the industry in 1998, while it was in its infancy.  She created several profitable websites and blogs in multiple verticals, and made over $400,000 as an affiliate in one year.
She mastered affiliate marketing techniques and rose to the level of a Super Affiliate in several affiliate marketing networks.  A super affiliate is in the top 1% of commission earners.
In the Super Affiliate Handbook, she will teach you how to make an income in affiliate marketing, so you can eventually quit your day job!
I learned affiliate marketing from Rosalind Gardner in 2010.  I found her training comprehensive and easy to learn.  She is legit and not one of the many scammers selling programs that don't work.
Who is This Book For?
Super Affiliate Handbook is geared towards anyone who is new to affiliate marketing and  also for those who are still struggling unsuccessfully to make their first dollar.
By using the methods taught in this book, which Rosalind Gardner has used successfully to make a healthy full time income online for nearly 20 years, you can finally learn make money online with a blog.
What will you learn in Super Affiliate Handbook:
How to start a blog.
Learn how to find a niche.
Best Web Host Plans.
How to find profitable physical and digital products to sell on your blog.
Tips to Write a product review.
Ways to get quality traffic to your blog so that you can make money.
Affiliate marketing is a business model, where you market other people's products on your blog, website, via social media or email.  You are given a special link that you place in your content on your own blog.   When someone clicks the link on your blog and buys the product, you get paid a commission.
You are not an employee of the company, but rather you are a contractor and have a relationship with the company to promote their products for a fee.
That is affiliate marketing in a nutshell.  Click here to learn how to make money online blogging.
Pros:
Good overall training product.
A lot of training & content.
Easy to understand
No computer experience needed
No hype or upsells
Great for beginners
Great technical support
Cons:
Some of the training may be a bit outdated.
Small community.
Some of the training information is probably available on the internet (if you want to look for it).