As a blogger or affiliate marketer, you use keywords when writing content, and your content is based around the keyword.
The keyword can be a focused product, such as a laptop computer or more specifically a particular product name, like the Apple Macbook Pro. It can also be associate with place, such as 5 things to do in Paris.
A keyword is a word the writer targets in their content.  The two most commonly used types of keywords are exact match keywords and the long tail keywords.
While exact match keywords are good to help you find popular keywords, people don't just use keywords when you doing internet searches.
When people do internet searches, they use keyword phrases, such as "where to buy wedding rings in Los Angeles for Under $2,000" or "best diet plan for men."  When you write content, you should be using these popular keyword phrases in your article title and throughout your content.  This will help your content get found by people who are searching for the product you are writing about.
Exact Match Keywords
Moz defines an exact match keyword as "search results that perfectly match all of the keywords in the search query, exactly as the searcher types it into the search bar."
With the exact match keyword, you use the same exact match keyword in your content to rank your content, and drive traffic to your page or offer.
With an exact match keyword as your target keyword, it exactly matches a search query and matches exactly the keyword in your content.
Exact match keywords can be used in Google Adwords for PPC (pay-per-click) advertising, where you bid to rank for this exact match keyword.
It is also for organic search, where users are keying in the exact match keyword into their internet search bar,  where they are searching for content that contains that exact keyword.
Problem with Exact Match Keywords
The problem with trying to rank your content organically for exact match keywords comes when your keyword is hard to rank for, due to high competition.
This is especially the case when the keyword has high competition, has thousands of monthly searches and is hard to rank for.
You would have to create tons of content, using that keyword, just to get your content to rank in the Search Engine Results Pages (SERPS).  This can be a very difficult task.
It may be possible with a PPC campaign to rank your content for the target keyword, depending on the cost per click.
How to Use a Long Tail Keyword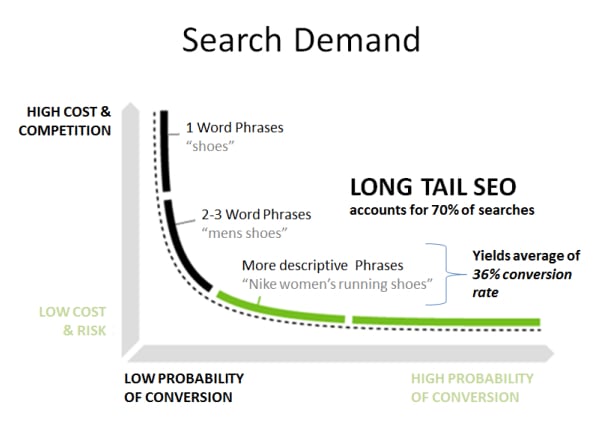 If the exact match keyword you are trying to rank for is too competitive, then you should try to rank for a long tail keyword phrase, that includes the exact match keyword.
A long tail keyword phrase is generally a 3-4 word descriptive phrase that includes the exact match keyword, and is generally less competitive, thus making it easier to rank your content with this phrase.
A long tail keyword is usually used further down the purchasing cycle.  People using these more descriptive SEO search phrases are more likely to make a purchase, as they have done more research on the product or service.  The competition for a long tail keyword is generally much lower, as fewer highly motivated people are using these descriptive long tail keyword phrases.
Research indicates when you use a long tail keyword in your title and as an anchor text in your article, readers are more motivated to purchase, giving you upwards of a 36-40% higher conversion rate, as compared to using a single exact match keyword.
You should use the long tail keyword phrase you are trying to rank for in the title tag of your content, the image alt tag and in three to four instances in your blog post as a clickable anchor text.
Neil Patel says you are more likely to actually outrank your competition when you use a long tail keyword, vs an exact match keyword.
If you're searching for a mountain bike, your initial query might be for mountain bikes to learn more about them, the brands and models available, price and stores that sell them.
Your next search might be for a [specific brand] plus [model].  An example might be, Specialized Mountain Bikes, or Specialized Mountain Bikes 24″.
How to Find Long Tail Keywords People are Searching For
The best way to uncover the long tail keyword phrases that people are using to find the product you are marketing, is to use a long tail keyword tool. This keyword tool finds long tail keywords you can use in your content
A long tail keyword tool starts with the exact match keyword you enter into the tool, and it then returns anywhere from 5 – 50 long tail keyword phrases that people have keyed into the search engines.
They also give you a competitiveness score, so you can determine the best keyword you can rank for.
My Long Tail Keyword Search Tool
I use Long Tail Pro keyword search tool to find long tail keywords to use in articles and product reviews.
In addition to discovering long tail keywords, Long Tail Pro shows the monthly searches for that keyword.
You also get keyword competitiveness.
Finally, you get SERP availability, which is the percent organic results.
Long Tail Pro Results
Ken is a husband, father and has been a full-time blogger and affiliate marketer since 2010.Our goal is to help you learn how to make money blogging.